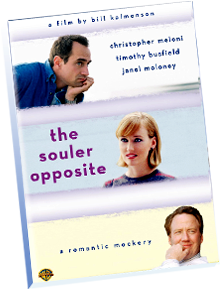 The Souler Opposite
"Something special! A spiky, engaging love story with uncommon wit, considerable grace and insight."
-KEVIN THOMAS, LA TIMES
Opposites attract, repel and collide in a savvy comedy romance from Bill Kalmenson. Chris Meloni (Law and Order SVU) stars as Barry, a comedian whose love life is a joke. On stage Barry says, "All he wants is a woman to like him for who he pretends to be." But in real life love isn't pretending. Ultimately neither will Barry."
First Point
"First Point is proof that as both musician and surfer, Bill Kalmenson knows how to put himself in a place conducive for success. His rich and growing experience illuminate his every note"
-Bob Blumenthal
Inspired by the Blue Note Hard boppers of the 1950's, "First Point" offers a swinging collection of Standards and Jazz tunes that are sure to please both the casual fan and the serious collector.
About Bill
Bill has charted a creative journey that has spanned a variety of disciplines. Prior to his feature debut as a writer-director Bill worked steadily as a stand up comedian and actor. After cutting his teeth in the N.Y.C. and Los Angeles club scenes Bill headlined regularly in comedy clubs all across the country....
Listen
Bill on the Clarinet and Jon on the Vibes combine for a swinging affair!
Contact
Click Here to email Buffalo Jump Productions. Or just call us (323) 461-3422.